There's something alluring about buy-to-let, physically owning something that can earn money in the background. It's a compelling investment and the reason many opt for it instead of a stocks and shares ISA.
Buy-to-let may be compelling at first thoughts, but there should be no mistake that it requires a considerable amount of effort setting up and managing while you may not see noticeable returns on your investment for some time, unless you have a large amount of capital to invest upfront. Additionally, there's always the possibility of bad tenants which can cause unnecessary stress and potential financial loss due to damage or liability which you may not be covered for.
While landlord insurance isn't a legal requirement it's important to get covered from the risks associated with renting out a property. It provides a contingency for when the unexpected happens, a tenant may miss rent, a pipe may burst or the property may go empty for a long period of time. Landlord insurance protects your capital from risk when things don't go as planned.
So, what do you need to know about landlord insurance? Read our helpful guide for some top tips.
Why get landlord insurance?
Landlord insurance is different from your standard home insurance and covers a much wider range of factors unique to rental properties such as malicious damage from tenants and unpaid rent, which may be extremely important if you rely on this additional source of income.
Types of landlord insurance
There's multiple specialist options to choose when getting landlord insurance and since they're not a legal requirement, it's up to you to decide just how much you'd like to cover.
At a glance, see the typical risks associated with renting a property and what rights tenants have.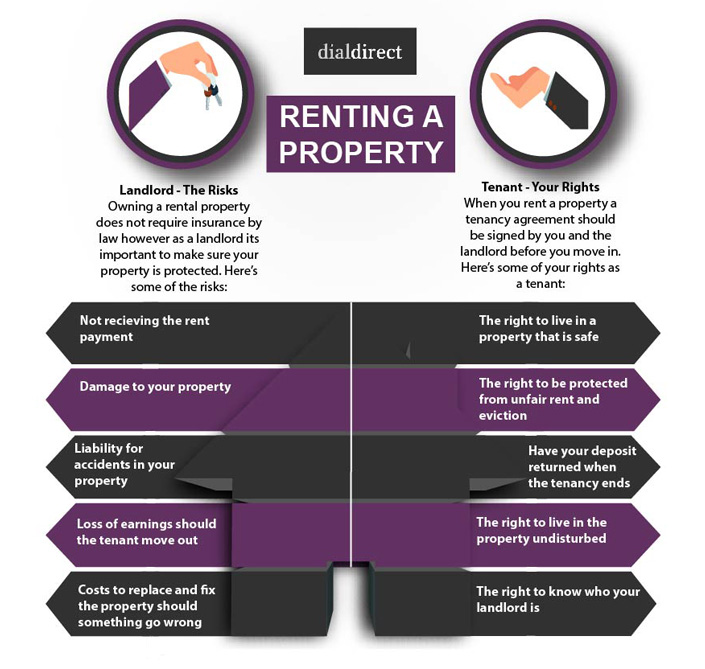 What insurance policies are available to protect against these risks?

Buildings insurance
A cover you're most likely familiar with from your current property and it's no different for landlord's insurance. It simply covers you against the cost of any damage to the physical structure of your property in case of events such as fires, vehicle collisions and earthquakes to name a few.
Portfolio insurance

A more convenient way of managing insurance for landlords who own five or more properties. With portfolio insurance, you're able to cover all buildings and contents of your properties under a single policy.
Accidental damage

This covers any damage that is caused by a one-off act, but doesn't include damage that occurs gradually from wear and tear.
Loss of rent

You may depend on a consistent income from your rental property and should things go wrong -if the property is damaged and needs to be vacant while repairs are done for instance, it's important to protect your cash flow. Additionally, this often includes when a tenant's rent arrears but it's recommended to check how much cover the policy includes with your insurance firm beforehand.
Landlord's contents insurance
A good option to have if you decide to leave any furnishings in the property to keep them covered.
Alternative accommodation
Landlords are often obliged to provide alternative accommodation if the property becomes uninhabitable while occupied by tenants. This cover aids the cost of temporary accommodation until the damage to the property is fixed and tenants can move back in.
Landlord liability

A crucial insurance for landlords, it's a type of liability insurance which protects you from any claims made by tenants if they have an accident in the property or their possessions are damaged and they hold the rental property accountable.
Unoccupied property insurance

This one's only necessary if your property is going to be unoccupied for a length of time that's longer than allowed in a standard policy, which is typically 60 days maximum. It's sensible to stay covered while the property is empty since damage is still a risk which wouldn't be noticed as quickly in an empty property and could worsen before it's discovered.
Landlord home emergency insurance

Provides protection against loss of essential services such as electricity, heating, plumbing and security. The cover typically gives 24-hour assistance when an emergency occurs and covers all costs associated with the job.
Other expenses to consider
Insurance is just one of the elements to consider in terms of costs when becoming a landlord. It's a common shortfall for landlords to fail to correctly measure buy-to-let returns, often overestimating their yield which can lead to problems later down the line. Find below other significant costs to bear in mind.
Mortgage

The main cost associated with buying a property which will make up a substantial part of your expenses.
Maintenance
Allow a realistic budget for repairs and maintenance. While it's a variable cost it's important to ensure your property is always up to standard and when issues occur they're dealt with quickly.
Tax
Tax can be complicated when it comes to property. If you're making over £2,500 on your property after allowable deductibles you'll need a tax return. It's recommended you get advice from a tax specialist before renting out a property, this will not only save you researching the intricacies of property tax, but it gives peace of mind that what you are paying is correct.
Letting agents

While they're not compulsory, letting agents are commonly used in buy-to-rent, offering full management of your property while sourcing the tenants. Agents typically charge up to 15% of your annual rent.
Choosing the right tenant
There's a lot to consider when looking for a reliable tenant. If you chose a letting agency to source them, they'll ensure the tenant is fully referenced with a background check, considering their credit and employment history amongst other things to ensure they're reputable, honest and dependable.
However, if you're a more hands-on landlord and would prefer to source a tenant yourself, it's important to be aware of the checks you'll need to make.
Background checks
Investigating the history of a prospective tenant can give you an insight into the type of person they are and whether they're pragmatic and reliable with their finances. No one wants a bad tenant who could potentially miss rent, so there's no harm being thorough. Common records landlords refer to include:
Credit history
Evictions
Financial information
Previous tenancies
Right to rent
You need to check your tenant can legally rent a property in England 28 days before the tenancy start date.
This includes ensuring they have the right to live in the UK, rent your property and checking the documents are legitimate.
Once the check is complete you'll need to keep a record of the review, it's result, details of any questions asked and copies of all the identification documents the tenant has provided.
For more information on how to check a tenant, see the Government's guide.
What's next?
Becoming a landlord is an exciting prospect. There's lots that goes into renting out your property and the decision shouldn't be made lightly, you should ensure you have the time and resources to manage requests whether they're through the letting agency or the tenant themselves.
For more information on general home policies including building and contents insurance read our handy guide on homeowners Insurance, and if you'd like further information on how to become a landlord, refer to the Government's guidelines.
Are you a tenant renting to a Landlord? Find out what sort of home insurance you need here