In the past, home ownership was the ultimate goal for most people, but with rising house prices, a struggling property market and reduced support for prospective buyers, more and more people are now rejecting the goal of home ownership and instead choosing the rental route.
So, why are so many people now renting?
Rising house prices is the main reason for this change of attitude towards home ownership. For many people, the idea of owning their own home is simply out of reach and unachievable. In 2018, house prices rose 4.6% compared to the previous year. This meant that the average salary needed to buy a home in the UK's biggest cities has risen by 18% in the last 3 years. This means that first-time buyers would now need an average salary of over £50,000 in order to buy a home in one of the UK's largest cities. How does this compare to where you live?
Traditionally, younger people have been viewed as the most likely to rent rather than buy – and this is still true. "Generation Rent" – as they are often coined by the media – is still rising with 46% of 25-34 year olds now renting in the private sector. However, older generations are also now turning to the rental market – the
proportion of 35-54 year olds now renting has almost doubled in the last 10 years.
So, if you are considering renting your first home, or if you have rented for a while, we have put together a handy guide on being a tenant. We'll run through the different stages of renting a property so you know exactly what to do each step of the way.
At a glance, see some of the responsibilities and rights tenants have when renting a property: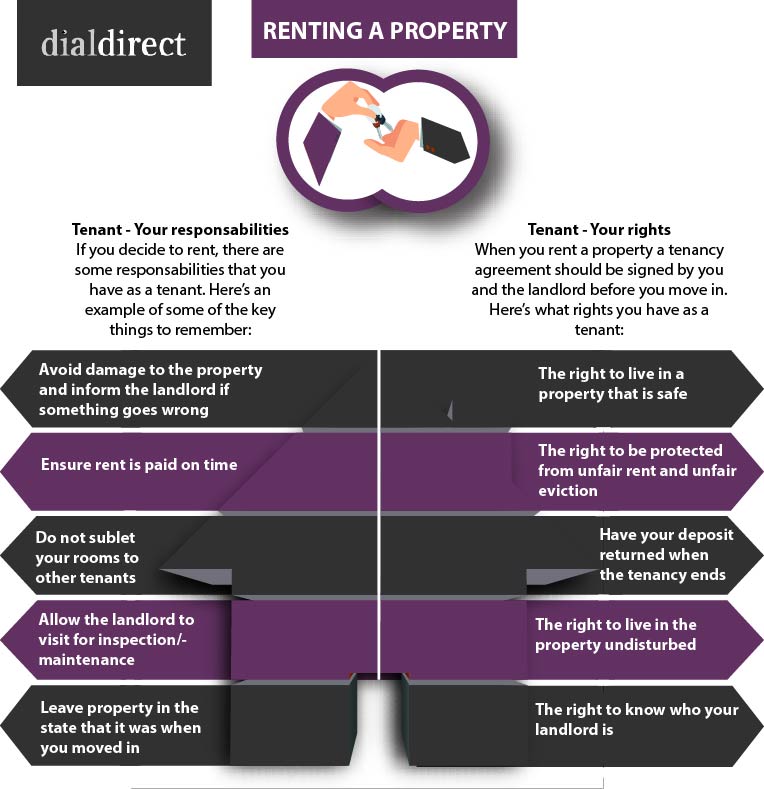 The property search
Looking for the right property can be the most fun, but also the most time-consuming, part of the process. Without setting out specific objectives for your search, you could end up scrolling on property websites for days on end with no productive outcome. Here are some things to think about when searching for the right property:
Budget
Setting out your budget from the beginning will help to narrow your search to properties within the range of what you can afford. You will also need to take into consideration monthly bills on top of your rent, as well as the costs involved with starting your lease, which could include a deposits and removals costs for moving furniture etc.
Length of tenancy
When you rent a property, you sign a contract called a 'tenancy agreement.' Landlords and letting agents will often set a minimum length of the tenancy – this is usually either 6 months or 12 months – so you should consider how long you want the tenancy to last for.
It is also important to consider when you want to move in to the property. Landlords will often state which date the property is available from so you can narrow your search accordingly.
Location
If you are moving to a new city or town, it is vital that you do some research to find out which areas you would prefer to live in. Take into consideration the location relative to your workplace, local shops and its reputation among locals.
Type of property
There are lots of different types of properties that will clog up your property search unless you filter out the ones unsuitable to your needs. Ask yourself some questions to narrow your search, such as: How many bedrooms do I need? Do I need a house or an apartment? Do I want my own place, or a house share? Do I want any extras, like a garden or driveway?
Furnishings
Most properties either come furnished or unfurnished, with white goods often included for both types – this includes a washing machine, fridge etc. However, make sure you check this with specific properties as it may not be included. If you wish to furnish the property yourself, take into consideration the costs of moving any furniture you already have and potentially buying new furniture.
Viewing a property
When you have found some properties that match your criteria, you should contact the landlord/letting agent who advertised the property to set up a viewing. To ensure the viewings are worthwhile, prepare some questions in advance to ask. This is your chance to find out what the area is like, what exactly is included in the rent and, if it is a house share, what the other housemates are like.
As well as asking questions, you should also have a close inspection of the property for things like damp or anything that may need repaired before you move in. It is also useful to test the wi-fi speed and water pressure if you can.
Moving in
Before you can get your hands on the keys to your new home, there are some important steps to go through to ensure your move-in and eventual move-out is as smooth as possible.
Tenancy agreement
The tenancy agreement will be signed by you and your landlord/letting agent and will include important terms about your tenancy. These could include eviction notice periods, protection of your deposit, what happens in the event of damage to the property, the start and end date of the tenancy and the obligations on both parties. It will also tell you the amount of rent to be paid and when – this will help you when setting up a standing order from your bank account. Make sure you read your tenancy agreement carefully and question anything you think is wrong or missing.
Deposit
Your deposit is usually the same amount as one month's rent and will be returned at the end of the tenancy period, with the cost of any damage or cleaning deducted. The landlord also has the responsibility of protecting your deposit in a tenancy deposit scheme, which is an independent body who keeps the deposit. They will also mediate any disagreements at the end of the tenancy between the landlord and yourself if any deductions have been made. When you move in to the property, your landlord should send you details of which tenancy deposit scheme they have used to protect your deposit.
Inventory
The inventory is a handy stage of the moving in process which you will appreciate when it comes time to move out. The inventory is provided by the landlord and lists everything that should be included in the property. When you move in, you should go over this and compare it to what is actually in the property – noting down any inconsistencies or missing items. It is also useful to take photos of the property when you first move in which can be used further down the line when you move out.
During your lease
You've moved in, you've paid your deposit and everything is going well – but there are some ongoing responsibilities you have as a tenant. These include paying your rent on time, paying your bills (if not included in your rent) and reporting any damage made to the property. You should also make sure not to sublet your property as this would be against the terms of your tenancy agreement.
When you move address, you must also inform your car insurance provider as your premium is likely to change due to the difference in location. As a Dial Direct customer, you can do this via the Self-Service Centre.
Moving out
At the end of your tenancy period, you should decide whether you want to renew the tenancy for another set period, renew it on a rolling basis or end the tenancy and move out. Whether these options are available will be up to your landlord. If you are moving out, you should make sure you leave the property in the same state as when you moved in. This is where your inventory and photos from the start of the tenancy will come in handy. But remember: some wear and tear is allowed.
At the end of your tenancy, your deposit should be returned to you. You must allow time for your landlord to inspect the property after you have left, to check for any damage and make any repairs that may be necessary. If there have been any repairs or deep cleaning done to the property, this will be deducted from the deposit that will be returned to you. If you would like to dispute the deduction, you can do so through your tenancy deposit scheme.
Are you a Landlord and wondering what is required of you? Read our guide about it here